Plastics and Their Qualities
Getting a custom plastic part made is no easy task, especially not if you're planning to have a plastic injection mold made especially for your design. When that's the case, getting to the point where you can finally start to produce your part will not only be hard work, but it will also be costly. After all plastic injection molds don't come cheap! So where can you start in the process?
One thing that definitely helps is to know what kind of plastic you'll be using and how that plastic will be applied to the mold. Knowing this can help move the process of designing a mold for your product. Plastic is a very versatile material, and so there's a large variety of plastics available for you to choose from. Each plastic has its own unique set of advantages and drawbacks, meaning the plastic you use will depend largely on what properties you require for your part to function properly. By doing the necessary research, you'll be able to find the perfect plastic for you.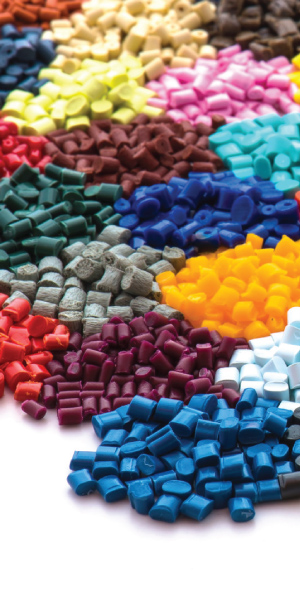 Prototyping Your Part With 3D Printing
Before investing in a plastic injection mold to mass produce your product, it's always best to look into prototyping options. Making a prototype might help you spot possible flaws in your design before it's too late. By making a prototype, you can get an idea of how the final product will function. You'll also get a feel for how strong every component (or plastic molded part) in your final product needs to be.
3D printing is an affordable option for prototyping. Although it's not nearly as versatile as working with injection molded plastic, it can be a reliable way to produce many of the prototype parts you need for your final product design.
Consider the Properties of Your Plastic Molded Part
Once you're satisfied that your design lives up to your expectation, you'll want to explore different plastics you can use to manufacture each part. After all, one of the biggest advantages of injection molded plastic over other manufacturing methods is its versatility, especially when it comes to your choice of what material to use.
To get you started on choosing a plastic for your injection molded parts, here's a list of things you'll need to consider beforehand:
Transparency/translucency: If you need a part that's transparent or see-through like glass, you'll immediately eliminate a large amount of plastics that are available for injection molding.
Elasticity: While plastic is known for being more elastic than glass and other more organic materials, not all plastics will be a good match for molding parts that have to be bendable. Some plastics are surprisingly brittle, while others are made for strength and durability and purposefully aren't meant to bend too easily.
Durability: Some products are made to last, while others are made for using only once or twice. Durable plastics used in the automotive and technology industries tend to be more expensive than plastics used for disposable goods, so using the toughest plastic for a cheap product usually isn't a very practical choice.
Recycling: If your plastic molded part will be disposable, choosing a plastic that can be recycled easily is definitely recommended.
Health safety: Some plastics are known to gradually release toxins. However, the release of these toxins only become a potential health concern if your product will come into direct contact with foods or drinks, like food containers and kitchen equipment.
Remember, your part will end up having the same qualities as the plastic you choose to mold it with. If you don't consider what qualities you want for your final part carefully, you could end up choosing the wrong plastic to mold it with.
The way molten plastic will move through your injection molds once you start mass producing the part with a specially designed mold will play a big role in the quality of your part. To ensure there aren't flow lines or other manufacturing defects in your plastic molded parts, your plastic injection mold manufacturer will design the mold with your specific plastic of choice in mind.
Different Types of Plastics and Their Functions
Currently there are so many varieties of plastics available, it would be nearly impossible to list them all in a single article. However, despite the wide variety of plastics available, most plastic molded parts are still produced from only a few basic types of plastics:
Polyethylene terephthalate (PETE/PET): PET is the most widely used plastic in the world. It's recyclable, shatterproof, versatile and cheap enough to make it a practical choice for even disposable items.
Polyethylene (PE): Once again, we're looking at a very versatile plastic variety. Polyethylene comes in different varieties. Low density polyethylene (LDPE) is commonly used for things like plastic bags at the grocery store, while high density polyethylene (HDPE) is used for more sturdy items, such as shampoo bottles, food containers and even waste bins.
Polyvinyl chloride (PVC): PVC is known for being particularly durable. This makes it a popular choice for products such as plumbing pipes and insulation of electrical wiring. However, while PVC is known for being very durable, it's not known for being recyclable, This plastic also isn't considered a good choice for plastic products that will come into foods, as it's considered to be toxic.
Polypropylene (PP): Polypropylene is most popularly used to mold plastic parts with living hinges. Unfortunately, however, polypropylene isn't a popular plastic for recycling in the US.
Polylactic Acid(PLA): Unlike most other plastic varieties, polylactic acid is unique in that it's produced from biomass rather than petroleum. The major benefit of PLA is that it's more biodegradable than other options, making it an excellent choice for disposable items.
Polycarbonate (PC): Polycarbonate is known for being a strong, transparent plastic. This makes it a popular choice for greenhouses.
Once you're ready to work on creating a plastic injection mold for your product, feel free to call Quality Mold Shop. We specialize in custom made precision molds for almost any industry you can think of.
Take a look at common plastics in injection molding.
Looking for a plastic molder?