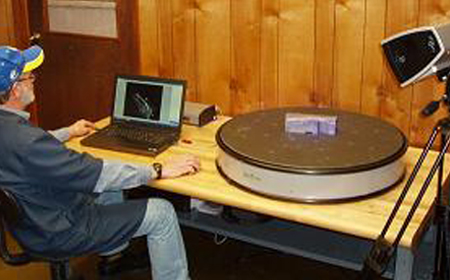 Quality Mold Shop is proud to present the addition of 3D(Blue Light) scanning to our quality assurance.
At Quality-Mold we have access to the latest technology and software that utilizes the newest Blue-Light technology, because of this we now have a more accurate and automated parts inspection process. When you add in our years of experience we are able to produce optimal outputs for 3D scanning projects for our customers. We are proud to be able to provide customers with high-end reverse engineering and precision 3D scanning services for both consumer and industrial applications. Our team has worked in this industry for years, and we have successfully produced and reverse engineered prototypes for plastic injection molds, medical parts, dental products and much more. Our engineering team can rapidly decrease the time to market for your ideas by bringing them to life faster through reverse engineering rather than having to rebuild parts from scratch.
What are 3D Scanners?
3D Scanners are devices that analyze a real-world object or environments to collect data on their shape and appearance, data that can then be used to construct digital 3D models useful for a wide variety of applications. The purpose of the 3D scanner is to create a point cloud of geometric samples on the surface of the subject, which are used to reconstruct the shape of the subject.
Reverse Engineering
Do you have off -shore manufactured injection molds without 3D data? QMS can now extract and produce 3D data, expediting injection mold repairs. We can also provide CAD models for any mold components that you do not have 3D files for.
Accurate, Automated Part Inspection
Raw data from the 3D scanner can be compared to original CAD design to highlight any deviations between the actual part and the CAD design model, clearly indicating out of tolerance conditions.