Plastic Injection Molding Service for Middle Tennessee and beyond!
Quality Mold Shop offers experienced operators overseeing manufacturing regularly utilized for prototyping and fabrication of parts. Quality Mold Shop offers a wide assortment of materials, utilizing best in class equipment and diligently follows all design specifications. We continually strive to improve and optimize our processes and maximize customer convenience. Our clients run from medical equipment manufacturers, automotive manufacturers, aftermarket automotive parts manufacturers, to appliance manufacturers. We are centered around quality and customer service.
Experienced operator oversight of manufacturing utilizes the knowledge and experience of our top quality tool makers to continue to ensure the superior quality of your parts. At Quality Mold Shop, we want to help creators and manufacturers improve products.
How Plastic Injection Molding Functions
Plastic injection molding produces parts by forcing molten plastic into a plastic injection mold where it cools and hardens. Granular plastic is fed by gravity from a hopper into a heated barrel. As the granules are moved forward by a screw-type plunger, the plastic is forced into a heating chamber, where it is melted. As the plunger advances further, the melted plastic is forced into the mold cavity. The mold remains relatively cold so the plastic solidifies almost as soon as the mold is filled. Custom tooling is required and adds to the initial cost but is quickly amortized.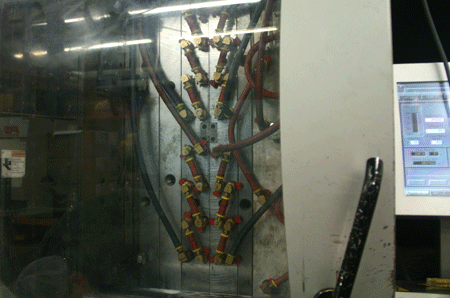 Our Plastic Injection Molding Process
Quoting
Once a 3D CAD model is transferred, you can determine material, amount, finish, general desire of the part in a notes area, and basically, impart however much data about that part as could reasonably be expected at the time of upload. From that point, you can call with inquiries concerning our procedure and how it identifies with your part geometry and make any adjustments that are required.
When you're happy with your concept and choose to confirm your part data, it moves to our injection mold designers, where they build up your 3D CAD in its negative picture to digitally outline two parts of the mold, or the A-Side and B-Side. The mold designers make the shutoffs and the separating line — which are custom to your geometry — and format the gate(s) and ejector pins. The mold plan is sent back to you for definite endorsement, and when prepared, our toolmakers start to process your injection mold.
Part Generation
Resin pellets — from either our loaded supply or provided by a client — are stacked into a barrel where they are melted, compacted, and infused into the mold's runner framework. Hot resin is shot into the mold through the gates, the part is molded, and ejector pins encourage expulsion of the part from the mold and into a stacking receptacle. Thermoplastic injection-molding is a standard procedure including a steel plastic injection mold with warming or cooling lines going through it, which implies process duration is time sensitive. It permits our molders to screen fill pressure, cosmetic concerns and the basic quality of the parts, so they are ready to ship upon finishing. When the run is complete, parts (or the initial sample run) are boxed and shipped shortly thereafter.
Injection Mold Creation
Our designers toolpath the digital mold outline to our CNC machines driving the cutting tools where to travel on the X, Y and Z planes, so the machine can quickly process both sides of the plastic injection mold. Any pick outs, cams or extra mold highlights that should be fitted are also made now. The injection mold moves into assemble where a mold builder is assigned to assemble and test the mold.
Advantages of Plastic Injection Molding
Plastic injection molding gives low cost at moderate to large amounts. This strategy for making plastic parts is an extremely versatile process for producing a wide range of parts with an excellent finish. Any 2D or 3D shape can be accomplished. However draft is required as a rule, as the shape must permit launch from the mold.
Types of Parts made by Plastic Injection Molding
Parts made by molding include: Medical Equipment and Parts, Auto Parts, Appliance Parts, Electronics Parts and Accessories, Gears, Enclosures, Brackets, Robot Parts, Washers, Front Panels, Motorcycle Parts, Toy Parts, Knobs, Pulleys, bundling, apparatus parts, control device segments, electric fence parts, valves, and more.
Plastic Injection Molding Materials
The accompanying materials are a portion of the ones ordinarily molded: Nylon, Acetal, Polycarbonate, Polystyrene, Acrylic, PTFE, ABS, PVC.
Low-Volume Plastic Injection Molding Production Runs
While plastic injection molding is typically used for producing large quantities of plastic parts, we think that run volume shouldn't determine what manufacturing process you choose. This is why we offer short run batches of parts for our customers. No job is too small!!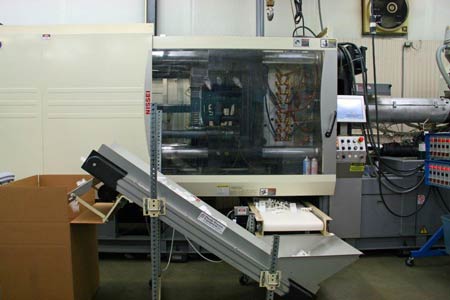 CMM Inspections and PPAP
Not all shops have the aptitude or innovation to offer the most dependable inspections. CMMs review part measurements for area and precision. CMM inspections empower our engineers and additionally our clients to have quick access to an exact assessment process that extracts various data such as:
SPC data analysis
First piece Inspection
Gage verification
PPAP inspection requirements
Production run inspection requirements and more
This process allows our team to accurately analyze and decrease all factors that may contribute to a measurement error thus ensuring that our customers receive the most valuable inspection possible.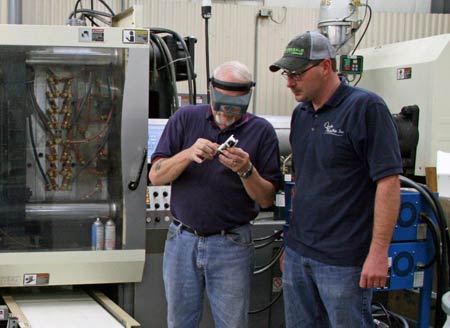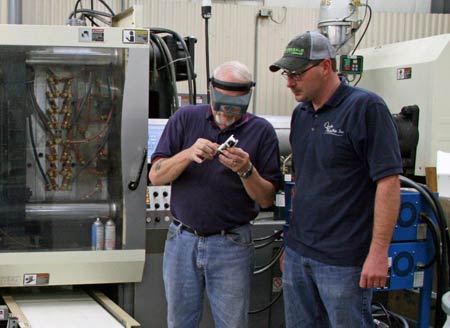 ---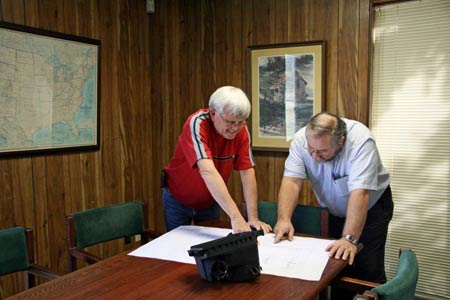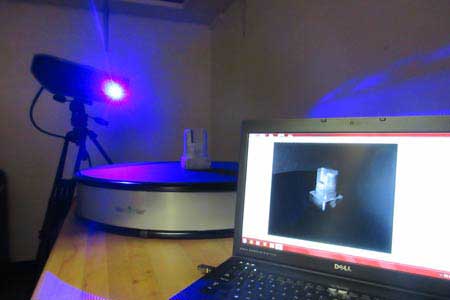 Assisting in Part Design and Plastic Engineering
Occasionally we are approached by a customer that has an idea for a product, and has a good start on the design work, but lacks the data needed for a final product outline. That is not a problem here at Quality Mold. Our experienced staff can aid in part design and plastic engineering. We have the ability to engineer complex products with precise specifications and tight tolerances. Utilizing various software in addition to Blue-Light 3D Scanning, we have successfully produced and reverse engineered prototypes for plastic injection molds.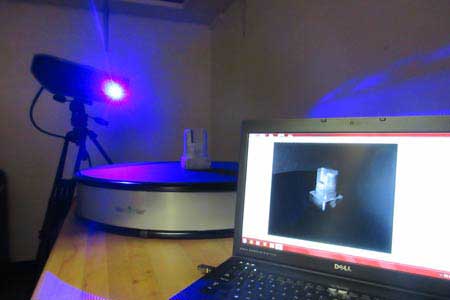 Need to decrease the time to market for your plastic part or product?
Our team has worked in the industry for years and our engineering team can decrease the time to market for your product design by taking advantage of our reverse engineering technology rather than having to rebuild parts from scratch. Quality Mold Shop is honored to be able to present our customers with our high-end reverse engineering and precision 3D scanning services for consumer as well as industrial applications.
---
Our Plastic Injection Mold Presses
Not all shops have the aptitude or innovation to offer the most dependable inspections. CMMs review part measurements for area and precision. CMM inspections empower our engineers and additionally our clients to have quick access to an exact assessment process that extracts various data such as:
Nessei Machines

Nissei 40 Ton machine with 1.2 oz shot capability

Nissei 120 Ton machine with 6 oz shot capability
Nissei 200 Ton machine with 11 oz shot capability

Nissei NEX 7000. A 400 Ton electric machine with 32 oz shot capability
Demag ERGOtech Machines

Demag ERGOtech 360 Ton machine with 22.5 oz shot capability

Demag ERGOtech 225 Ton machine with 22.5 oz shot capability
Ferromatik Milacron

55 Ton machine with 2.96 oz shot capability

725 Ton Vertical Press machine with 105 oz shot capability
Van Dorn

120 Ton machine with 6 oz shot capability

Autojector

90 Ton Vertical Press machine with 4.44 oz shot capability
---
Getting an Accurate Plastic Injection Molding Request for Quote (RFQ)
We sometimes see customers that have found themselves under a tight deadline trying to gather and decipher quotes from different plastic injection molders in order to meet a target date, ultimately leading them to choose the wrong manufacturer to meet their needs. Knowing more about what kind of end product you want to produce helps you get a more accurate Request for Quote.
To get the most accurate RFQ you need:
For Plastic Injection Molding Run Quotes
Mold Cavitation – How many parts will your mold make at a time?
DFM CAD Drawings – We need to know the thicknesses and volumes of your parts to estimate cooling, material usage and cycle times.
Material Specs – So we can get you the best material prices.
Bill of Materials (BOM) – What other materials and details would you like us to consider?
Product Requirements Document (PRD) – How will your product be used for and what special requirements and considerations will need to be taken into account?